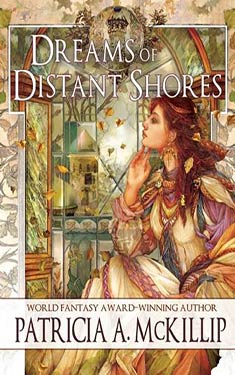 This review also appears on the Worlds Without End blog, which can be found
here
.
-------------------------------------------------------------
Every time I have read one of
Patricia A. McKillip
's novels, I have been struck by her poetic language and the vibrancy of her fantastical worlds. Therefore, I was delighted to have a chance to read and review an advance review copy of her latest collection of short fiction,
Dreams of Distant Shores
(to be published June 14, 2016). The book collects seven works of short fiction, one essay by McKillip, and a warm and insightful afterword by
Peter S. Beagle
. McKillip's essay is about her style of writing high fantasy, which involves simultaneously following and breaking the rules of the genre. I enjoyed the glimpse into her writing process, and I think the balance between tradition and originality that she describes is one of the things that has kept drawing me back to her fiction.
The short fiction in Dreams of Distant Shores, though, is far from traditional high fantasy. There are no queens, courts and heroes, and the stories take place in worlds not unlike our own. I thought the title itself was a remarkably accurate description of the contents within, since each tale felt like a dream permeated by a different style of magic. The vein of strangeness that runs through every work ties the collection of stories together.
The book opens with the confusing and surreal "Weird". A man and a woman are locked in a bathroom with a gourmet food basket, while someone or something attempts to break in. The two of them seem oddly calm, and the woman recounts the weirdest things that have happened in her life. It's a strange slice of a story, and reading it feels like falling into a fragment of someone else's nightmare. The story "Edith and Henry Go Motoring" (original to the collection) also feels like a peek into someone else's dream, though a more peaceful one. Edith and Henry go on an aimless journey in the English countryside, crossing a bridge with an unusual toll to an unexpected destination. I felt that these two stories were the most subtle and elusive of the collection, and I ended up reading them multiple times to try to gain a better understanding.
"Alien" (original to this collection) is another calm tale, and one that feels more grounded in a mundane reality. It features an elderly woman who claims to be visited by aliens, though her family fears she's losing her mind. It's a lovely and quiet story about growing old, familial relationships, loneliness, and wonder. Also, I think it must be the most positive alien abduction experience I have ever read.
Moving to the lighter side of the collection, "Mer" (original to the collection) and "Which Witch" are humorous stories with very different takes on the subject of witchcraft. "Mer" follows an immortal, form-changing witch who just wants to settle down into something comfortable and rest. In the process, she spends some time as a goddess and a wooden mermaid, and gets involved in an unusual local religion. The story is much less about the witch herself, who just wants a long nap, than it is about the ordinary people with whom she winds up getting entangled. The vagueness of the magic system works well within the story, since a lot of the humor comes from the characters' exasperation with the confusing events happening around them.
Rather than the ancient, formless, sleepy witch in "Mer", "Which Witch" follows a fashionable young woman in a witchy rock band. She's proud to have recently acquired a crow familiar, but the two of them are having issues with communication. Unfortunately, what the crow is failing to communicate at the beginning of the story is, "You are in terrible danger!" The magic in this story is tied up in music, something that I think is pretty hard to pull off in a written story. I thought the music as magic sections were pretty fun in this case, though I'm not convinced the musicians would have put on a decent performance!
Moving into the longer fiction, "Gorgon in the Cupboard" was my favorite of the collection. The story involves a community of Victorian painters and models, and the kinds of relationships that exist between them. A middling painter searching for inspiration finds his muse in Medusa, whose spirit manifests in his unfinished painting of Persephone. Medusa directs him to search for a model, and he looks for someone who will stop him in his tracks and elevate his work. However, that model is more than a symbol or a mythological figure, but a human woman with her own griefs, thoughts, and dreams. What follows is an emotional story about how people are shaped by their experiences, and the value of seeing others as they truly are.
The final novella in the collection, "Something Rich and Strange" is a lyrical and imaginative story that carries an overt environmental message. A couple that lives by the coast have a stable life together, until supernatural forces slowly begin to tear it apart. The man is drawn inexorably to the water by a siren's call, while the woman begins to see strange things in the familiar coastline. It is not long before the situation begins to get really out of hand. The story is beautifully written, and it had some pretty funny moments without losing its fundamental sincerity and gravity. I'm usually not a fan of including blatant messages in fiction, but the ocean really is in a sad state (though there are some
signs of hope
). Altogether, it is a haunting story of a relationship stretched to the breaking point, as well as a call to take responsibility for environmental damage.
In closing, this was an excellent collection of short fiction by Patricia A. McKillip. Each of the stories takes place in a different world, with a different tone and approach to the supernatural. With such a range, from the surreality of "Weird" to the Victorian painters of "Gorgon in the Cupboard", I expect it will please fantasy fans with a variety of tastes. As for me, I have enjoyed visiting each of McKillip's Dreams of Distant Shores.